Dashboard Introduction
Dashboard: A dashboard is a content hub on a website that gives access to different elements of the site's functionality
Your KhooSeller Dashboard is the first page that you'll see when you log into the admin area of your KhooSeller website. It features a variety of visually represented data sources, such as your visits summary, content changes, and referer keywords, that can be used to help you track the performance of your site. The Dashboard also works as a hub, providing easy navigation across the admin area, and access to the latest KhooSeller news and updates.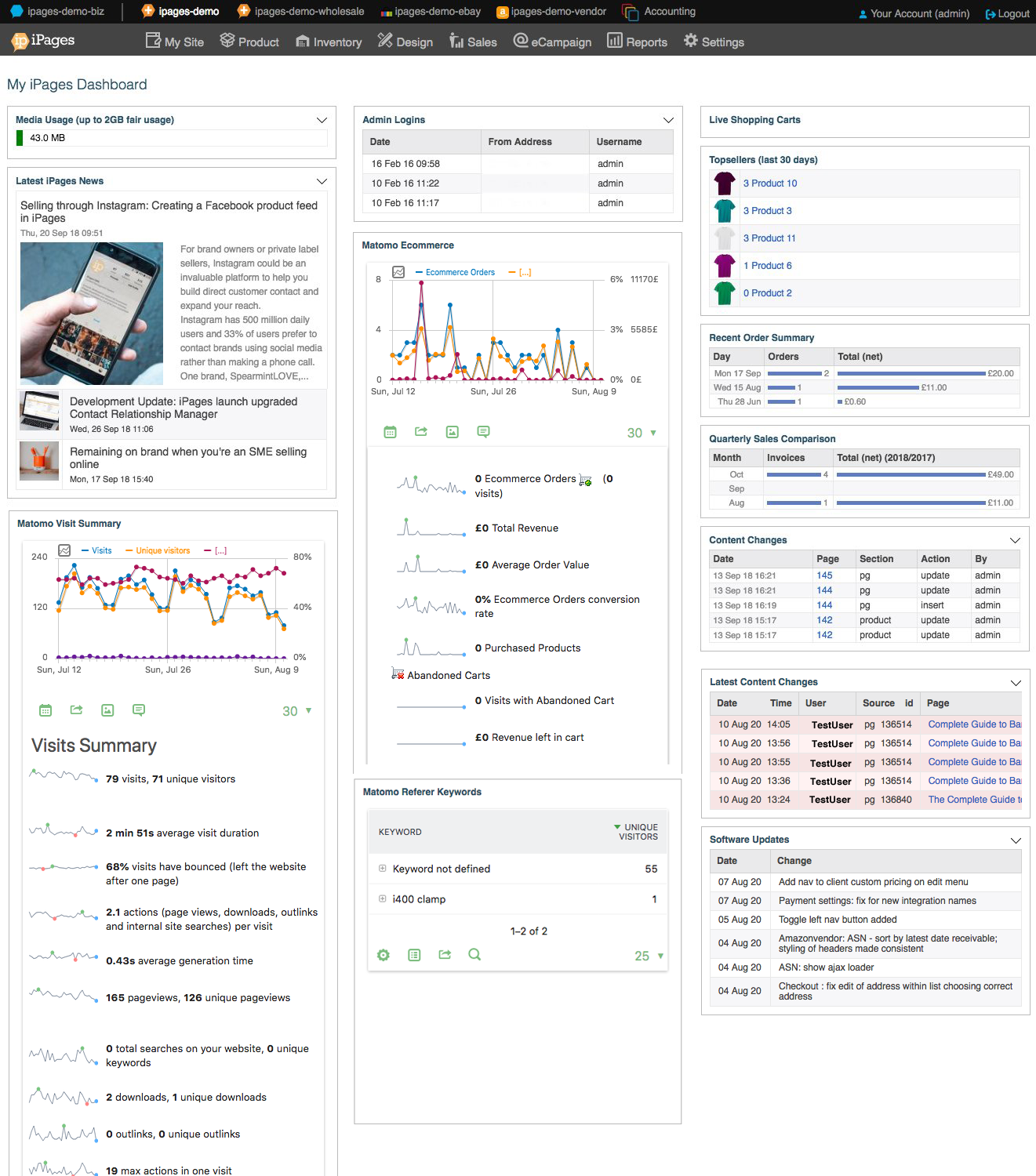 What information is available on your KhooSeller Dashboard?
Your websites – at the top of your site you will see all your KhooSeller websites. You can jump between sites by clicking on them. If you only have the one site, then this is all that you will see.
Your Account – here you can amend your account details, enable two factor authentication, change your password, amend your details and view your account statement.
Notifications – here you will see issues that we have flagged about your account.
Site Navigation – Click on the tabs along the dark grey horizontal bar to access different areas within your website.
Media Usage - this gives you the amount of storage that your site is using. We consider 2GB to be fair usage.
Admin Logins - here you will see who logged in and when.
Live Shopping Carts - this report is solely for eCommerce customers and provides information on your abandoned carts.
Latest KhooSeller News - our 3 latest blog posts will be listed here. You will find these a wealth of information for managing your site.
Matomo Visit Summary – this gives a summation of your visitor stats over a given period.
Matomo Ecommerce – this report provides a brief insight on your eCommerce sales, and is only for eCommerce customers.
Matomo Referer Keywords – an indication of what words were used to find your site will be given here.
Topsellers (last 30 days) – your best sellers for the previous month will be listed here.
Recent Order Summary – a summary of your order numbers and revenue are displayed here.
Quarterly Sales Comparison – Sales comparison for the current year compared to the previous year are shown here.
Latest Content Changes – the previous 5 content changes within your site are detailed here along with the date, time, user, and what page has been edited.
Software Updates – the software is constantly being updated to ensure that it remains cutting edge. A summary of the most important new changes are detailed here.
Find out more about the features on your KhooSeller Dashboard.