Folder Presets
What are they?
All folders have a preset that define how they display the items they contain. This is called a folder preset.
Without changes, folders will use a default setting (a default folder preset).
Creating a folder preset
First, find the table of all your folder presets in My Site > Presets > Folder.
To create a folder preset click the "+ Add" button under the table. You can edit the preset directly and save changes by pressing "Ok" in the bottom-right corner.

Folder presets have the "Edit Raw Data" feature, enabling you to quickly copy layout formatting from one folder preset to another if you want.
Two views of the editor are shown below, according to whether tile view or carousel view is selected on the left: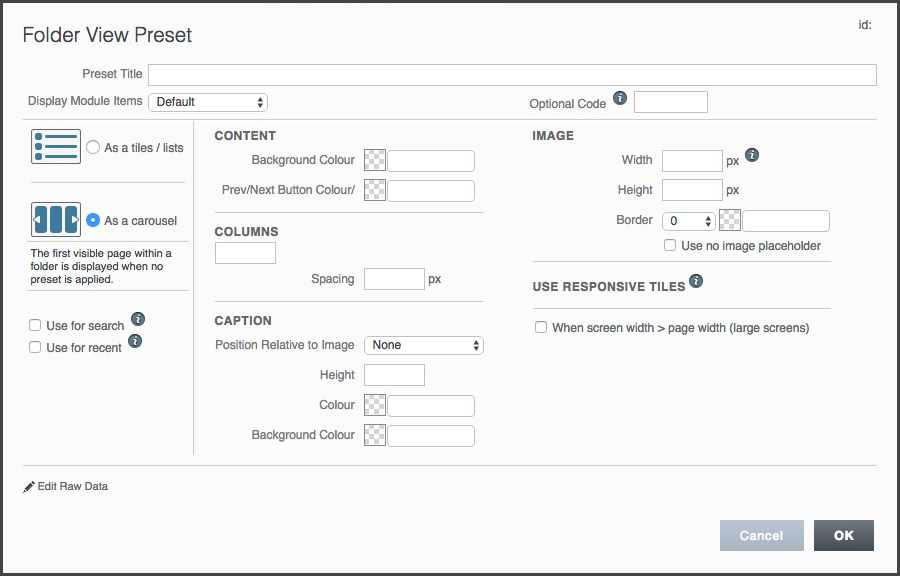 Editing a folder preset
Edits can be made to a folder preset through clicking the pen icon in the "Action" column on the preset's row.
Probably the most important formatting for a folder preset is the type of content it is set up to display. When a folder preset is created, the type of content has to be selected from the dropdown marked, "Display Module Items".
The four modules the folder can display are:
Default - pages and folders
Directory - directory items
News
Products
Please note that using the wrong content type may cause layout issues.
The preset also includes a Template area and Stylesheets area similar to that seen in a layout preset. The template area controls the structure of items which appear with the display of folder items.
Once you have finished editing your folder preset press "Ok" to save your changes.
Using the folder preset
To bring this folder preset into usage you have to select it on the folder itself under the Site Root tree. By clicking "Edit" on the folder and then selecting the folder preset from the dropdown under "Display" where it says "Folder Preset". Read more about selecting presets for modules here.